A comprehensive solution in practical learning of information technology for individuals and groups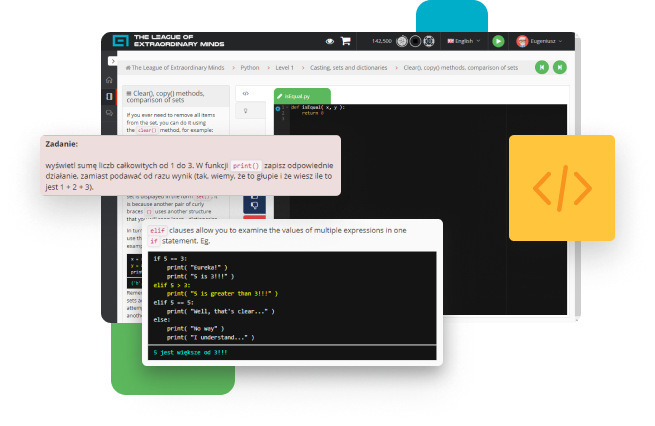 LEM is an award-winning, professional platform for practical learning of programming, databases and other information technologies. The platform enables independent learning from scratch at home and supports teachers and instructors in transferring knowledge in schools, libraries, companies, containing a number of tools for working with a group. The platform is used by tens of thousands of users every day, as well as over a thousand schools around the world.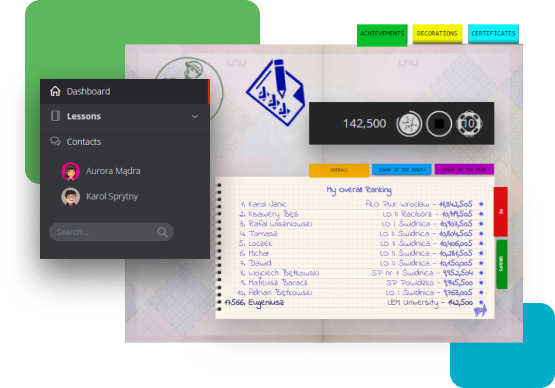 The LEM platform is accessible from anywhere through the up-to-date version of any popular web browser. No installation required.
Take advantage of ready-made programming courses in Python and working with databases in SQL. All courses on the platform start with the basics. No prior knowledge is required to start learning.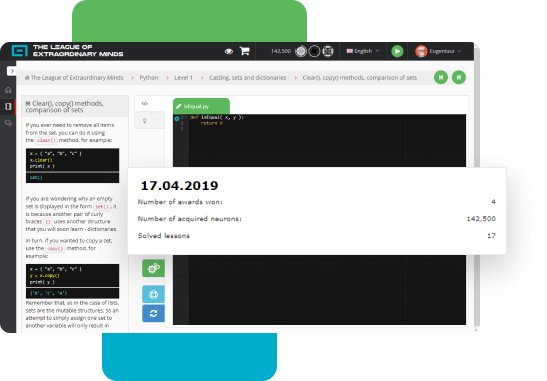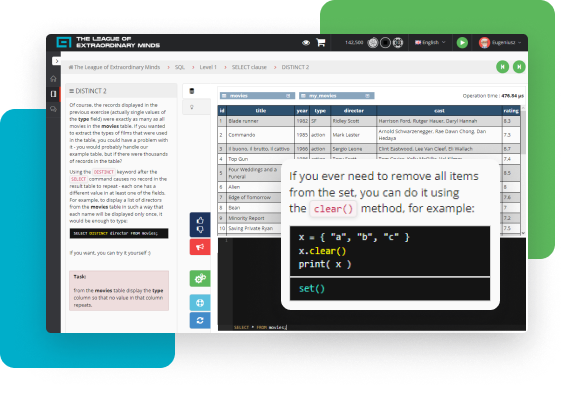 Learning through practice and problem solving
The courses are divided into short lessons. At the end of each lesson, you will face a problem that needs to be solved by creating a real code or database command. Learning at LEM is a continuous practice.
Automatic evaluation of solutions
The platform provides instant, automatic evaluation of your solutions and feedback. This allows you to learn at any time, at your own pace.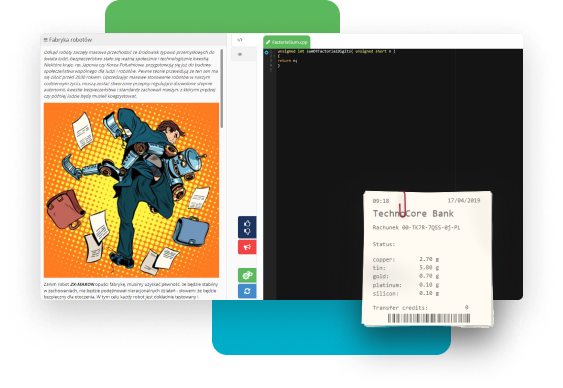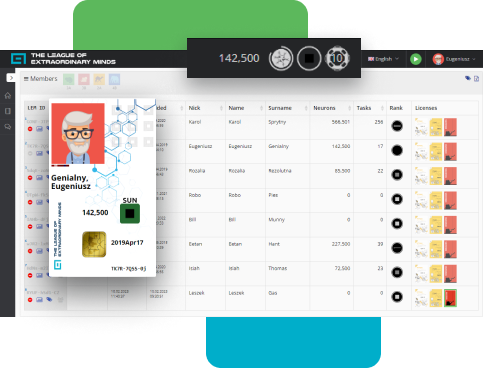 Learn with the League while having a nice time. Lessons are written in an accessible way, in light, non-technical language. By solving tasks you earn points (neurons), resources, achievements and certificates. You can compare yourself in the rankings to other users. As a rest from the courses, you can also face interesting programming missions.
In the League, you can always count on kind help: automatic in the form of lifebuoys for tasks and human help through contact with LEM consultants.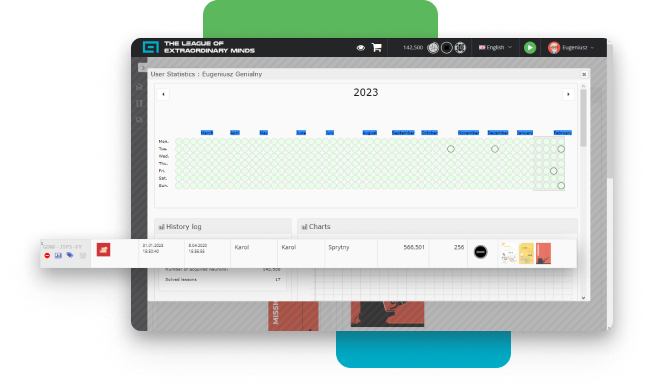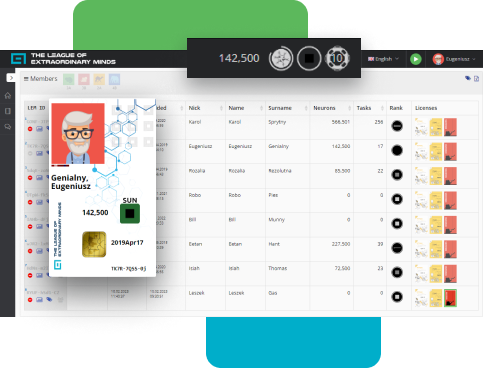 After completing the course, you will receive an electronic certificate. You may also have the opportunity to take an additional certification exam.
Tools for group administrators
LEM supports working with groups. Group administrators on the platform (teachers, librarians, training coordinators, instructors) receive additional permissions to work with groups.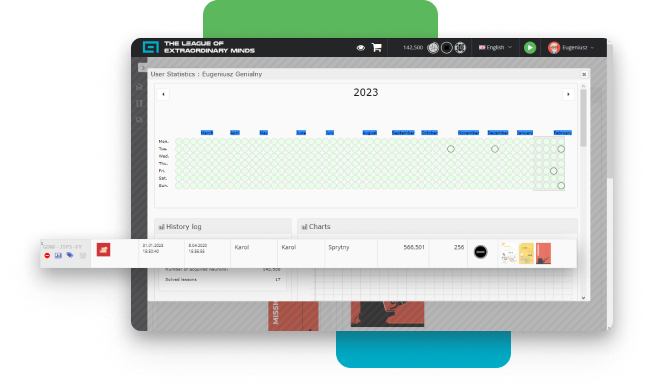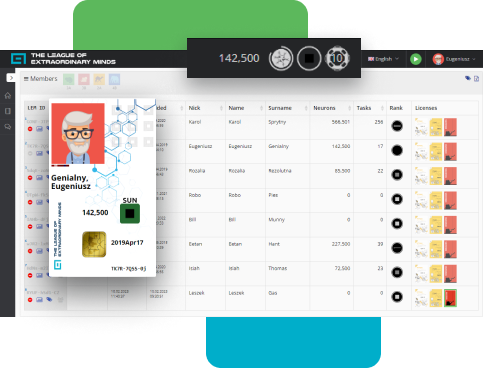 The intuitive interface allows you to easily add users to a group and control their access to courses using group packages. In the "My packages" window keep track of the number of free licenses. In the group members table you can easily grant and revoke access to individual users.
In the table of the group members you will find basic statistics of their work on the platform, including: date of last login, number of solved tasks, points earned and ranks. You also have access to detailed statistics of individual members in the form of graphs, charts, logs, progress in individual courses with the data about every solved lesson, including: date, time of work, number of compilations, etc. In the course menu, you can also check the statistics of individual lessons: who in your group solved it, when, at what time, in what way, etc.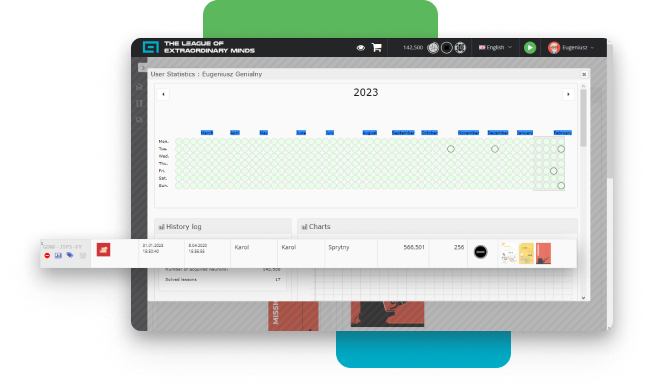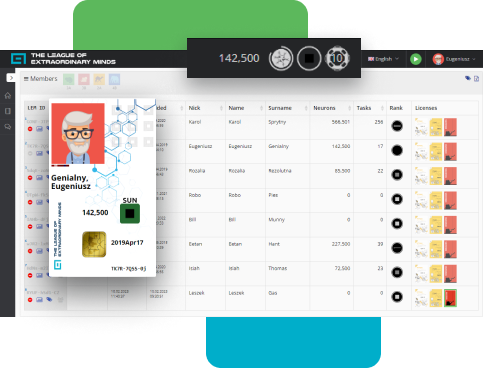 You can manage multiple groups independently from one administrator account. In the case of large groups, you will make it easier to organize your work by defining and applying your own labels, by which you can easily filter the table of group members.
Group administrators have access to solutions to the tasks in the courses and easier navigation through unsolved lessons to be able to help their students/trainees more effectively.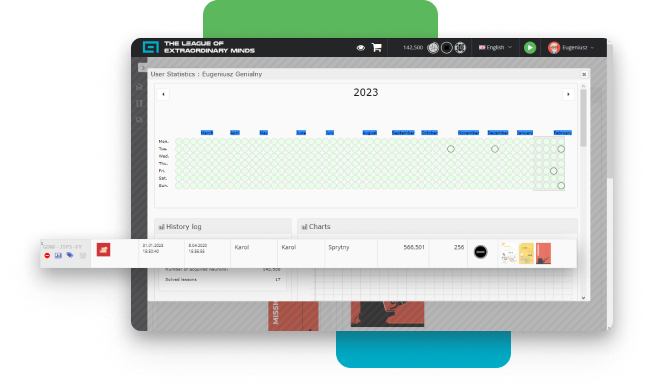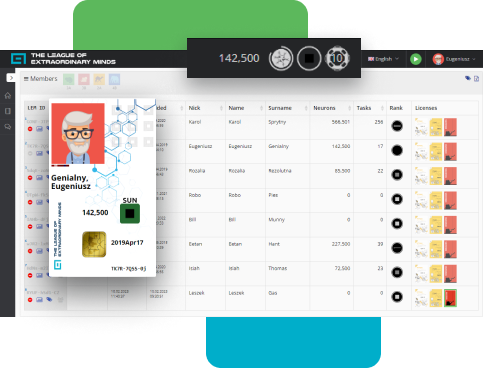 Add friends and communicate with them via chat.
Your platform is amazing. Intuitive, everything explained well. It's really nice to use and go through the stages.
Patrick
City Hall
I can't help but show my admiration. So far, this platform is working great, technical support responds on time, issues are explained in a factual and, what is extremely important (kudos to the person writing the texts), very funny in some places. For now, I'm delighted. I tested code.org. codecombat, Khan Academy – they are all great, but you have nothing to be ashamed of and you are becoming a leader in this segment.
Luke
teacher
Platforma daje uczniom doskonałe możliwości rozpoczęcia nauki programowania. Cieszę się, że mogę z niej korzystać.
Jaroslaw
teacher
FREQUENTLY ASKED QUESTIONS
Is the LEM account paid?

Registration and having an account on the platform are completely free of charge. Only access to full versions of individual courses is paid.

Are LEM courses only for students?

No, the courses on the platform are for practical learning of programming and are intended for anyone interested, including adults! The offer for schools includes special courses designed to be used at school in IT lessons, based on the current core curriculum and adapted to the abilities of an average student. Other courses are designed for anyone of any age who would like to learn programming, working with databases or other information technologies from scratch.

Are school courses at LNU intended for primary schools?

School courses are designed to teach programming in accordance with the core curriculum of the subject of computer science. Since the courses are based on professional programming languages, they are addressed to students from grade 7 of primary/secondary schools (depending on educational system in your country) and all grades if high schools. Naturally, the teacher can also make the courses available to younger students who are interested in programming!

Can teachers create accounts for their students?

Accounts on the platform are individual and belong to individual people, so each user – including students – should register an account on their own and not entrust login details to anyone. Teachers have special permissions on the platform that allow them to connect individual student accounts to the school account, which allows them to work together in a group.

I bought the course, when will I get access to it?

If you have purchased a course on our website, you have been sent a message with an activation code. Log in to your account and use the code in the "Activation code" field, which you will find in the "My Account" tab after clicking this option in the menu in the upper right corner of the screen. Using the code will unlock access to the course. If you purchase a course directly on the platform, access is activated immediately after payment. Please note that in most courses you have to complete the tasks sequentially, so you can only open the first lesson at the very beginning. Subsequent lessons will be unlocked along with your progress in solving the preceding lessons.

I have zero sense of humor. Can I still use the platform?

Of course you can try, but it will be hard. We suggest using the free version first.